Benedictines' smart moves and Charlemagne's education reform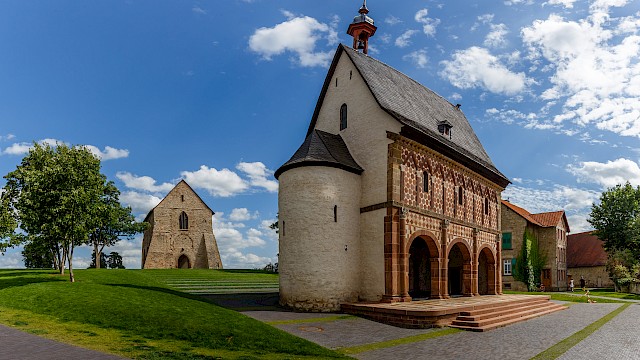 Charlemagne was the first emperor of the Middle Ages. And he wanted to change a few things. But how? Charlemagne wanted an educational reform. And Lorsch Abbey played an important part in his plans.
Lorsch became one of the most powerful monasteries of the Middle Ages
Lorsch started off as a small Benedictine Abbey. Only to become one of the most powerful monasteries of the Middle Ages. Why? Partly thanks to good strategic thinking. It was originally founded in the year 764 by a noble family. But the Benedictine monks got hold of a special relic: The remains of St. Nazarius. Allegedly, he was a Roman soldier who converted to Christianity. Perhaps Charlemagne liked that story. After all the emperor saw himself as the defender of Christianity (More about Charlemagne see Königswahl, Bertradaburg).
In 772, Lorsch Abbey took another big step. There was a legal dispute about who owned large parts of the abbey's land. Charlemagne settled it in favour of the abbot Gundeland. Gundeland's way of saying thank you, was to donate Lorsch Abbey to the emperor. In return Charlemagne turned Lorsch into an imperial abbey. That meant the emperor provided his personal protection and the abbey gained privileges. But in return it had to fulfill certain obligations.
UNESCO-World Heritage
Today, Lorsch Abbey is part of te UNESCO World Heritage. Take a stroll through its grounds and discover its unique beauty.  You will encounter magnificient medieval architecture: still standing are the abbey wall, parts of the old chapel and the king's hall. But what makes Lorsch Abbey truly unique, is what happened within those walls. Because numerous priceless manuscripts were written right here. Up to this day they serve as a crucial source of knowledge from a bygone era.
Visit Lorsch Abbey
Would you like to learn more? Visit the exhibition "A miracle of glory and beauty!" in Lorsch Abbey. You can see what the abbey looked like in the Middle Ages. And hear more about the precious manuscripts that were made here.
Many of them are also available online here https://www.bibliotheca-laureshamensis-digital.de/en/index.html
Lorsch Abbey
Nibelungenstraße 32
64653 Lorsch
Lorsch Abbey – A scriptorium for Charlemagne