Porta Nigra – The roman gate that became a church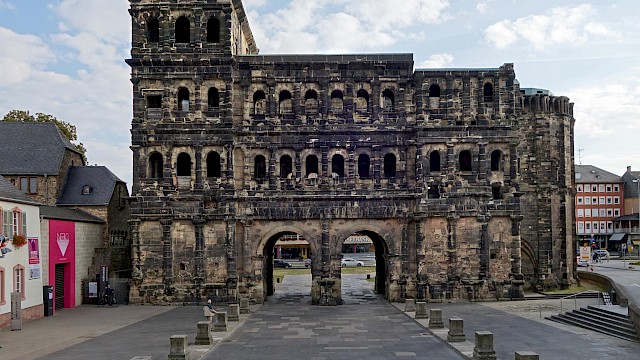 Get to know the Porta Nigra by listening to her story. Built by the Romans the "black gate" made it to the present. Thanks to a medieval conversion. Its name is a modern creation because the gate did not use to be black.
Destination for pilgrimage
The Porta Nigra became famous as the home of Saint Simeon. He was a monk in the Middle Ages who lived in the gate's eastern tower. After his death archbishop Poppo of Trier campaigned for Simeon's sanctification. He had his motives. Because saints attracted pilgrims and pilgrims brought money. Poppo succeeded. The Porta Nigra became a place for pilgrimage. And Poppo turned it into a twin church. That saved the gate from a common fate. Because in the Middle Ages people reused the stones from Roman buildings (see also Meurin). The Porta Nigra was saved by being turned into a sacred site. Since 1986 it is part of the UNESCO World Heritage.
Exhibition Inside
Would you like to know more about the black gate? Visit the exhibition "The Porta Nigra in the Middle Ages" inside.
http://www.zentrum-der-antike.de/en/monuments/the-porta-nigra/the-porta-nigra.html
Would you like to discover the medieval history of Trier? Then you have to begin with the Romans. Why? Because in the city of Trier Antiquity and the Middle Ages form a unique union.
Various places tell a story about how those two eras are intertwined. Like Trier Cathedral or the Porta Nigra. Even St. Maximin's Abbey has antique roots. It was built on a christian cemetery from Roman times. Besides Trier, the Roman mine in Meurin and Lorsch Abbey both highlight the connection between the Middle Ages and the Classical Period.
Be it antique or medieval, a stroll through the streets of Trier can sharpen your awareness for the fact that the stones still tell their stories of power and change today. One of them is the market cross in the city centre. It was erected in 958 by Archbishop Henry to mark the occasion that Trier had received the right to hold a regular market.
Would you like to learn more about Trier in the Middle Ages? Visit the treasury of the city library. The exhibition "The knowledge of the World – Life in the times of the medieval emperors" presents medieval sources and manuscripts. It offers a chance to deepen your understanding of the Middle Ages and the  pillars of power that supported the emperor.
https://www.trier-info.de/museen/schatzkammer
Recycling in the Middle Ages? A gate, a monk and a city: The history of the Porta Nigra
Salvation through conversion: the Porta Nigra becomes a church